Recently, drive-thrus have become a popular go-to choice for people who want to eat their favourite takeaway. So why are people choosing drive-thrus over conventional ordering processes? 
Convenience
The primary reason people opt for drive-thrus is the convenience they offer. You don't need to get out of your car, find a parking space, get the kids sorted, go inside, order, wait for the order, finish your meal, tidy up and then back out to the car. Conventional ways of ordering food sometimes just take too long. Drive-thrus however allow you to order from the comfort of your vehicle, making it a convenient option for people who are short on time, have mobility issues, or have children in the car.
Speed
Drive-thru processes are typically faster than traditional ordering processes. You can place your order and receive it in a matter of minutes, making it a very time-efficient option. This is especially true for people who are in a hurry or have a tight schedule.
Contactless Ordering
Many people are just opting for contactless ordering processes which have become the norm since the global pandemic and customers' shifts in attitude towards technology. Drive-thrus offer a safe and reliable process which means we feel confident to just go in and order what we want and off we go. 
So, you are convinced that the drive-thru is the option for you. You now need to make sure you get the right elements in the right order to get yourself up and running. 
Making sure every element communicates, responds and triggers others is no small feat. Having a project team and principal contractors with the right skill set to be able to deal with the challenges this system poses is integral. From dealing with contractors, the installation of 2nd fix cabling, hardware installation and technical configuration, delivering the level of detail and precision should be at the forefront of drive-thru installs.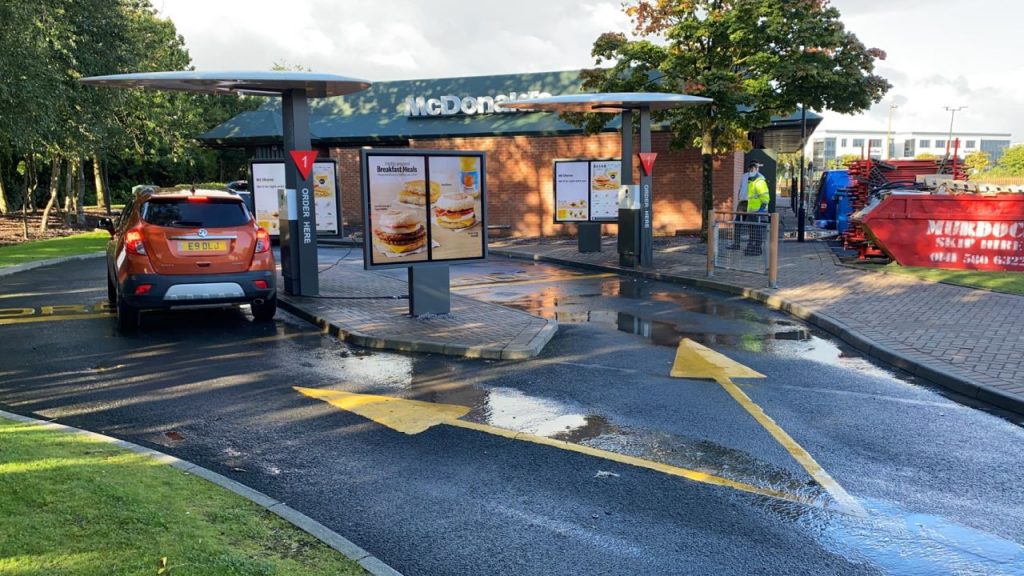 Here are the things you need for the perfect drive-thru experience: 
Loops in the road to detect vehicles and alert the server on duty.
Digital Media screens or menu boards with engaging content to market products also improve customer order visibility.
State-of-the-art Headset Technology to allow effective communication between customers and employee
An EPoS solution that communicates with all aspects of the system and doesn't hold orders up.
Payment and PDQ devices that work every time. 
A Kitchen Management System that works seamlessly with all other elements. 
We work with the best the world has to offer when it comes to drive-thru solutions. Being at the cutting edge of innovation with partners that strive to be the best, we know our solutions have the staying power and will transform your business. Make sure you connect with the team today or download our services portfolio here.