Once restricted to the imagination of sci-fi fans in film and TV, it seems the idea of one day having robots do all those humdrum tasks is racing towards us faster than we all probably expected.
Sharing our spaces with robots and AI has been a slow burner for many companies as there wasn't really a need to invest. This was probably down to the thinking smart phones filled that void and companies could rely on the hive mind of the public to complete the same process.
Over 20% of both GenZ and millennials would welcome artificial intelligence to help them make decisions when placing an order.
A change in public behaviour and demand towards services like home delivery, click and collect and automated check-in/out processes, all fueled by the recent pandemic, has accelerated the human-free expectation. It is now 'normal' to almost never encounter an actual human.
Society has proven that they are pleased navigating this fully digital process from start to finish. Companies are also happy to oblige as the initial investment is hugely outweighed by the long-term financial benefits of having machines complete repetitive tasks more efficiently.
Here are our 5 top picks that we think are excellent and we can see becoming commonplace in the industry.
The Henn-na Hotel in Nagasaki, Japan became the first hotel in the world to be entirely staffed by robots. The hotel is completely AI sufficient with technology including voice and facial recognition. Throughout the hotel robots are deployed to provide information, front desk services, storage services, as well as check in and check out services. Check out this video of everything in action!
2. Savioke's Dash Crowne Plaza's Delivery Robot
Another early adopter of robot tech was the Crowne Plaza in San Jose, Silicon Valley. Their robot Dash has been delivering snacks, toiletries, and other hotel amenities making his way through the hotel, using a unique Wi-Fi connection. It then makes a phone call to announce its arrival. It can even monitor its own power usage and return to its charging point when needed.
This is perhaps one of the most recognised robots in the UK now. Having started to be introduced into a few places in the UK including Milton Keynes just a stone throws away from our head office at Celestra. These delightful little robots can be seen going about their business come rain or shine.
This safe and secure green delivery platform which can be used for a large variety of deployments have proven very popular with the community. It's safe to say that we will probably see more of these popping up in a city near you soon!
4. Pudu Robots – Your hospitality robot help!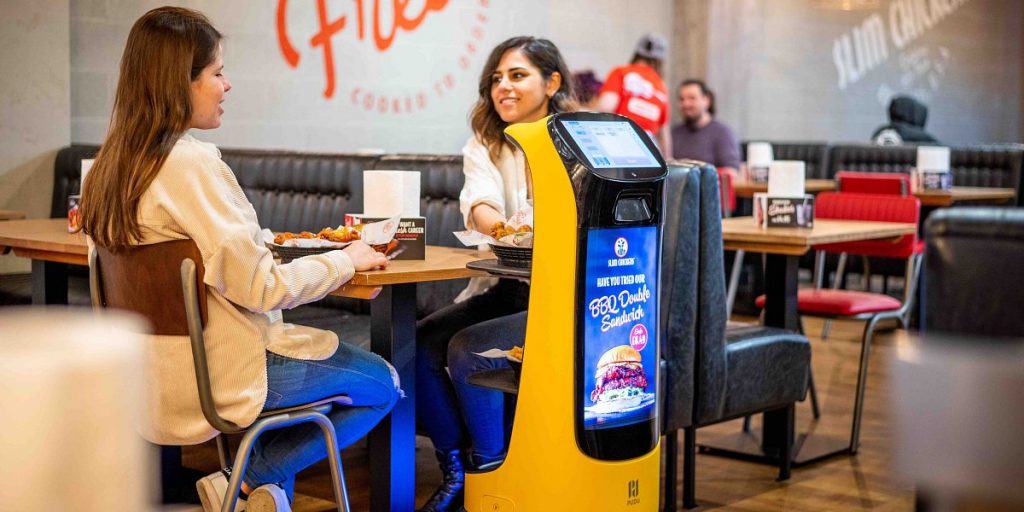 These versatile all-rounder robots can greet and escort your guests or even deliver multiple tables at once supporting your wait staff and achieving that excellent level of service.
These delightful machines can also support through Robot-human collaboration improving the efficiency and service capability of the team. They can attract you customers by telling jokes, dancing and can play an integral part in supplying dish information alongside allergen information.
If you think these robots also can't cope with the fact pace complex and dynamic environment of a restaurant, you'd be wrong. The radar & visual dual navigation solutions, allow the bots to safely pass-through narrow spaces and the navigation solutions guarantees the obstacle detection accuracy, making safety is at the top of everything.
We have started to see hospitality venues in the UK adopt these bots to deliver an improved customer experience. Boparan restaurants are currently trialling two robots in their latest restaurant Slim Chickens in Guildford. Programmed to be fully automated, the robots can hold a conversation with guests, on top of taking orders and delivering dishes. Could this be the start of large rollouts from some of the UK's most iconic hospitality brands in the wake of consumer behaviour change? Watch this space.
5. AI powered food ordering. The future of Drive thrus!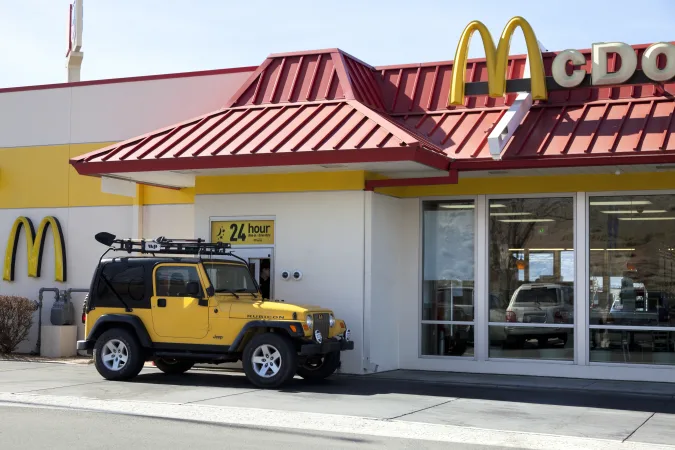 With the increased demand on drive thru services accelerated by the pandemic. Many companies have now looked towards making these services easier, quicker, and more accurate. We aren't surprisingly seeing several big brands investing heavily in finding or trialling Ai systems within their drive thru lanes.
McDonald's, who have partners with IBM to further accelerate development within voice ordering systems seem to be at the helm of incorporating this technology. Given its track record with usually being the first to adopt new tech innovations, we will probably see this coming you're your favourite drive thru soon.
But what are the benefits?
Speed of service – Many consumers are put off by lengthy cues. By having a much slicker ordering process which isn't hindered by lengthy upselling conversations, orders can be processed quicker without reducing average value of the order.
Improved average order value – AI ordering technology has the potential to add instant personalisation to orders and can make much more educated and relevant upsells, in turn speeding up the ordering process.
Accuracy of order – By having a much more streamlined personal service coupled with smart knowledge, remaking of orders can be reduced and customers are happier in the long run.
Got some thoughts, perhaps you have seen something cool that deserves a place on our next blog. Get in contact through our contact us page. Alternatively, you can receive updates from us by signing up for our newsletter.