You're reading this article because you want to increase your business' sales and you know digital media and menu boards play a vital role in driving potential sales towards a specific product or service.
As digital media continues to take over our lives, it's no surprise that it's making its way into our favourite fast-food joints. With digital menu boards and drive-thru screens, restaurants are becoming more and more capable of combining the convenience of a quick, efficient experience with the kind of marketing that can capitalize on a person's specific interests.
We thought we would put together this 5 step guide so you can decide whether digital media is for you, and how you can get the best and quickest installation.
What is your USP or target market and what do you want to digitise? The idea of hyper-local marketing is as old as location-based advertising itself, but with digital media taking over every aspect of our lives—including our fast-food experiences—it's becoming easier than ever for marketers to target customers in real-time. Whether it's in a window display, on a drive-thru lane or above your EpoS stations (or maybe all three), the right solution is paramount.
2. A DM management platform
You will need a great digital media management platform to make sure what you are displaying is what you intend. This is a central system usually controlled by marketing and sales teams and hangs together all the screens so they are displaying the right content at the right time and also to the right people. We have worked with some of the best countries and their systems are compatible with almost any solution. Visit our success story for one of our Dm installs for Starbucks here.
So you have the solution, and you have the right platform that knits it all together. Now you need some fantastical, magically cool and dynamic content to start engaging your audiences. The world is your oyster when it comes to the content you want to display. You could have videos, dynamic text, and small adverts. You would not have been able to achieve this level of sophistication and variety with just posters or static menus. This is where digital media comes into its own.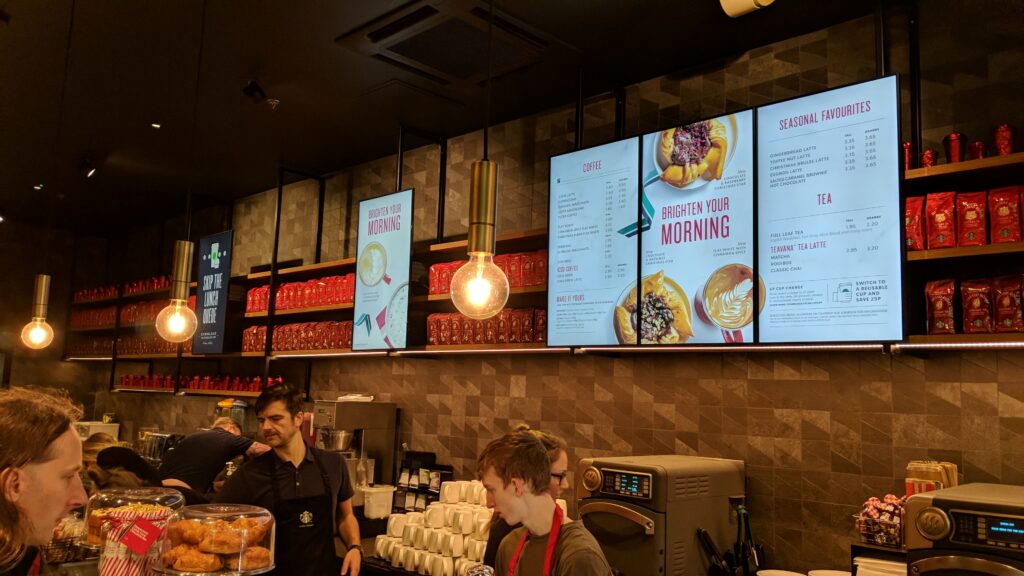 4. You need a great installation partner
We can't give you all this valuable insight into getting your digital media up and running without blowing our own trumpet a little. This is the only time we will do it so here goes…. We are the best 🎺. We have installed some of the biggest, most diverse and sizable projects relating to digital media in the country. We installed Costa's most recent install. The screens in Aldi, that were installed by us. Starbucks dynamic menu boards, we did that. Even McDonald's drive-thru OMDB screens that were a whopping 1 meter wide we installed. When it comes to digital media, don't choose anyone else. We have the pedigree and prestige. Get it sorted the first time!
5. Continued maintenance and support
One thing that must never be glossed over is making sure your digital media continues to perform and you are never caught if problems occur. After all, nothing is worse than your customers coming into your establishment and not knowing what is on offer. For the most part, issues can be rectified remotely but knowing you have someone there to get you back up and running as quickly as possible is key. Don't be caught out and get the right support solution sorted before you go live.
By following these steps, you're already part way there in getting the right solution. But, it's prudent to remember that you can't allow yourself to see these solutions as a one-size-fits-all magic bullet. You need to be creative and use the right systems for the right reasons to make them work for you. For further support, we are here to help you achieve your digital vision and support you in generating an exceptional ROI.
Tap the right-hand corner and contact us now!